Health Systems Science
The Third Pillar of Medical Education
Applied in conjunction with the basic and clinical sciences, it provides a framework for understanding how system elements influence the care of individuals, giving physicians the tools they need to improve outcomes, identify and address the challenges patients face in navigating the health care system and take an active role in reshaping the system to achieve the Triple Aim.
InsideTheBoards' Health Systems Science podcast series, with support from the American Medical Association and Elsevier, seeks to broaden students' understanding of the nature of medicine, medical education, and what separates them from other human endeavors. Medicine is not a "pure science," a kind of "applied biology." Rather, it is fundamentally an art that uses science. As a discipline, Health Systems Science considers those ideas and concepts which are integral to medicine as a profession but don't fall under the domain of the clinical or basic sciences.
The National Board of Medical Examiners includes HSS topics in its USMLE Content Outline and even offers a dedicated Health Systems Science subject examination. Practically, each episode of the Health Systems Science series offers on-the-go learning by breaking down practice exam questions with expert guests.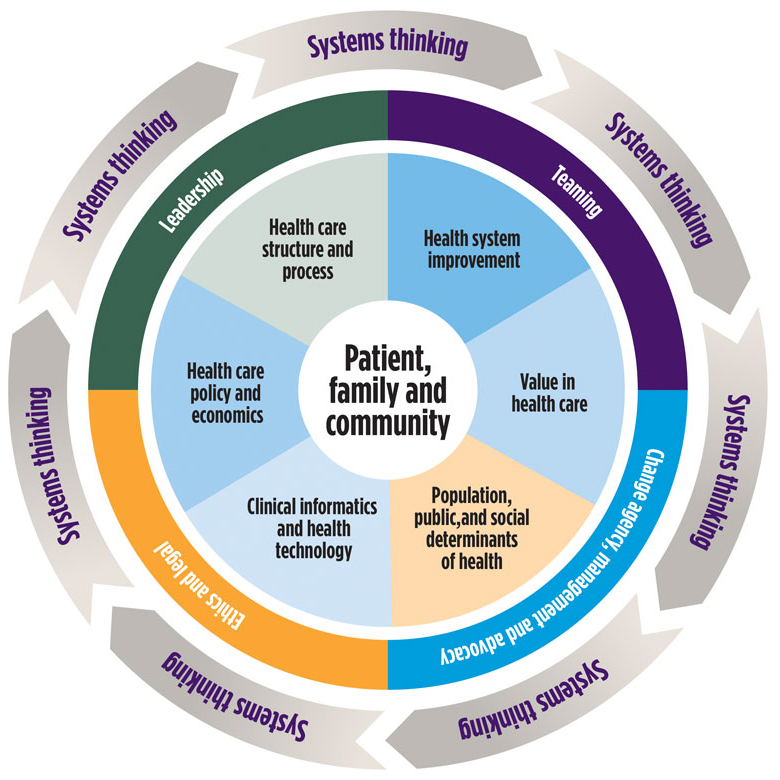 Copyright American Medical Association. All rights reserved.
11 core
domains
Health care Structure and Process
Focusing on how individuals, institutions, resources and processes are organized to deliver health care.
Health care policy and economics
Encompassing the decisions, plans and actions related to community-level health and issues central to the production and consumption of health care.
Clinical informatics and health technology
Such as clinical decision support, documentation, EHRs and data utilization.
Population, public, and social determinants of health
Including macro-level strategies for addressing gaps in care.
Value in healthcare
Which is defined as quality of care divided by its cost over time.
Health system improvement
Concentrating on the processes of identifying, measuring, analyzing and implementing changes to health care delivery to improve performance.
Leadership
Which involves motivating others to pursue a common goal.
Teaming
Focusing on how individuals work together on specified tasks to achieve shared goals.
Change agency, management and advocacy
Exploring how physicians advocate for individual patients to receive the best quality care and create changes in the health care system.
Ethics and legal
Including the ways in which the transition from a one-on-one patient-physician dynamic to a systems approach presents challenges for health law and ethics.
Systems Thinking
Which is the linking domain, consisting of ways to understand, visualize and analyze how the core curricular domains interact with and reinforce each other.
Episodes
---
Get the episodes organized in the ITB app or listen wherever you get podcasts
Health Systems Science: Series Intro and Overview
With Dr. Maya Hammoud from the American Medical Association
Welcome to the first episode of our Health Systems Science series! This episode is an overview of what Health Systems Science is and why it is important.
Todays Guest
Dr. Hammoud is the J. Robert Willson Research Professor of Obstetrics and Gynecology and Professor of Learning Health Sciences at the University of Michigan Medical School. She is the Chief of Women's Health Division, and Associate Chair for Education. Dr. Hammoud holds many leadership roles nationally. She is senior advisor for Medical Education Innovations at the American Medical Association (AMA) with a focus on health systems science and coaching. She is the immediate past President for the Association of Professors of Gynecology and Obstetrics (APGO) and a member of the National Board of Medical Examiners and chairs their International Foundations of Medicine (IFOM) committee. Dr. Hammoud is the current Principal Investigator on a $1.75 millions Reimagining Residency Grant from the AMA on transforming the UME to GME transition.
Dr. Hammoud completed her MD and MBA degrees and residency training at the University of Michigan. She has had many leadership roles in the past including Assistant and Associate Deans at Michigan and at Weill Cornell Medical College in Qatar. Her research is in medical education with a special focus on the use of technology in education and the role of academic coaching in learner's development.
Sections from this episode include
Why HSS is important and has become more important with COVID-19
Why students need to be taught HSS during medical school
What is systems-based thinking
How HSS affects practicing physicians
Sponsor
Special thanks to Dr. Ned Palmer for sharing Panacea Financial's origin story. Check out what Panacea Financial is doing for medical students at panaceafinancial.com/itb
Health Systems and Processes
With Dr. Stephanie Mann and MS4 Angela Jacob from the University of Toledo
Todays Guests
Dr. Stephanie Mann, Associate Dean for the Clinical Undergraduate Medical Education at the University of Toledo. She is a practicing Maternal Fetal Medicine physician. Among other professional activities. her educational and research focus is on optimizing curriculum development to facilitate teaching the different competencies of Health Systems Science across the continuum of medical education. She has received institutional support for Health Systems Science curriculum initiatives in the undergraduate and graduate medical education settings and for national dissemination through the Association of Professors in Gynecology and Obstetrics (APGO).
Angela Jacob is a 4th year medical student at The University of Toledo College of Medicine and Life Sciences pursuing Physical Medicine and Rehabilitation. Angela is a Toledo native with a passion for service and community outreach. Her background in working with populations in need inspired her to kickstart the UTCOM Cares project with her peers during the COVID-19 pandemic. In her free time, Angela enjoys horticulture, spending time with friends and family, and exploring the Toledo Metroparks with her dog, Luna.
Sections from this episode include
What is systems thinking and what are the frameworks for triple and quadruple aim
"Health Systems Science is the bridge between the basic sciences and clinical curriculum"
How systems thinking can be applied to patient encounters to best coordinate care for each individual based on their unique circumstance and situation
How understanding the various systems can help you understand what is available and how to get people who need resources the most access to those resources in the most efficient, expeditious, and highest quality way
Sponsor
Special thanks to Dr. Ned Palmer for discussing the PRN Loan opportunities for 4th year students. Check out what Panacea Financial is doing for medical students at panaceafinancial.com/itb
Healthcare Delivery, Economics, and Policy
With Dr. Paul Weber and MS2 Kate Kim from Rutgers Robert Wood Johnson Medical School
Todays Guests
Dr. Paul Weber, a licensed physician, pharmacist, and MBA he currently serves in multiple roles including Associate Dean for CME, Director for the Health Systems Science (Health Policy/Patient Safety/Quality Improvement) Curriculum Thread, Director for the Distinction in Medical Innovation and Entrepreneurship Program (DiMIE), and Digital and Connected Health Educator, and the Pharmaceutical/Biotech Industry through US & Global matrix leadership and line management roles in Medical Affairs (Executive Medical Director with Translational Collaboration, CME & CE, Medical Liaisons, Scientific Communications, Medical Information), Clinical R&D, and Healthcare Policy & Professional and Provider Advocacy. Among other things, his Academic Research areas include Healthcare Policy & Health Systems Science (Leadership & Change Agency, Integrated Delivery Networks, and Transitions & Continuity of Care)
Kate Kim, MS-2 Rutgers Robert Wood Johnson Medical School. She was formerly a health policy congressional intern and senior research analyst at the Lewin Group
Sections from this episode include
Details and the origin of the "Healthcare Policy and Emergency Preparedness" elective
Question breakdowns covering HiPPA and what is and is not a protected entity
Medical billing practices included fee for service compared to value based healthcare.
Sponsor
Special thanks to Dr. Ned Palmer for discussing the state of student loan debt and how re-financing with Panacea can help students save money. Check out what Panacea Financial is doing for medical students at panaceafinancial.com/itb
Healthcare Technology
With Dr. Rachel Salas and MS4 Kori Porosnicu Rodriguez from Johns Hopkins Medicine
Todays Guests
Rachel Salas, MD, MEd, FAAN, FANA (@RachelSalasMD) is a Professor in the Department of Neurology at Johns Hopkins Medicine with a joint appointment in the School of Nursing. She is the Director of the Neurology Clerkship. She earned her medical degree at the University of Texas Medical Branch at Galveston where she also completed her internship and residency. After her chief year, she came to Baltimore to complete her 2-year sleep medicine fellowship. In 2018, she earned a Master of Medical Education at the Johns Hopkins School of Education. Dr. Salas is an executive member of the Alliance for Clinical Education. She is also the founder and Co-Director of the Osler Apprenticeship Program (in Neurology), a medical education research program for senior medical students and the PreDoc Program, a premedical college program. Dr. Salas is a certified strengths coach and uses a strength-based approach and coaching to connect to, support, and develop those involved with her educational mission and in her clinical practice. She is the director of the Interprofessional Education and Collaborative Practice for the School of Medicine at Johns Hopkins. Nationally, she is a Co-Director for Interprofessional Teaming for the High Value Practice Academic Alliance where she works to promote teamwork through a strengths-based approach. Dr. Salas is a 2019-21 Josiah Macy Scholar and was selected as one of the 2019-20 AMA Health Systems Science Scholars.
Kori is a rising 4th-year MD student at Johns Hopkins University School of Medicine. She is currently doing an MPH year at the Johns Hopkins Bloomberg School of Public Health where she is concentrating in epidemiology and biostatistics. Kori's interests lie in medical education, research, service-learning, and advocacy. She enjoys working with the Johns Hopkins Neurology Department as an Osler Apprentice, learning how to design and evaluate electives, conduct medical education research, and be an effective change agent. In her free time, she also works to advance equity in healthcare as the External Policy Co-Chair for the national Latino Medical Student Association and as a member of the Centro SOL Policy Group. She can be found on Twitter at @KoriPoRodri.
Sections from this episode include
Embracing telemedicine and translating exams for telemedicine visits
Developing the "Virtual Clinical Elective in Equitable Healthcare" and how it incorporated Health Systems Science
Using medical devices for research
Sponsor
Special thanks to Dr. Ned Palmer for explaining the benefits of having a checking/savings account with Panacea. Check out what Panacea Financial is doing for medical students at panaceafinancial.com/itb
Population and Social Determinants of Health
With Dr. Tonya Fancher and MS2 Mustafa Shakir from UC Davis
Todays Guests
Tonya Fancher, MD, MPH, is associate dean of workforce innovation and community engagement at UC Davis. She has created UME and GME pathways that address workforce shortages, including as PI on an AMA Accelerating Change in Medical Education grant with Kaiser Permanente to create a 3-year MD pathway and as co-PI on an AMA Accelerating Change in Resident Education grant with OHSU to create a regional collaborative to address physician shortages in rural, tribal, urban and communities between Sacramento and Portland.
After completing a primary care general internal medicine residency at NYU and Bellevue Hospital, Dr. Fancher spent four years in the US Air Force. She graduated from Cornell University where she majored in Classics and in Biology. She is on twitter @TonyaFancher.
Mustafa Shakir is a second year medical student at UC Davis. He is currently preparing to take STEP 1, and is very excited to start year 3 to explore his varying interest in multiple specialties. In the past year, he has been extensively involved with the student run clinics at UCD, especially during the COVID pandemic. He is also currently working on his first soon-to-be publication relating to Alzheimer's disease. He previously graduated from UC Santa Barbara, and obtained a BS in Biopsychology.
Sections from this episode include
The importance of the social determinants and their impact on healthcare outcomes
The importance of diversity in the healthcare workforce
Keeping care accessible for vulnerable and underserved populations
Sponsor
Special thanks to Dr. Ned Palmer for explaining the importance of financial literacy and building good habits early. You can start building good habits by signing up for an account at panaceafinancial.com/itb
Healthcare Safety and Teams
With Dr. Vinny Arora and Chase Corvin from the University of Chicago
Todays Guests
Dr. Vineet Arora is the Herbert T. Abelson Professor of Medicine at the University of Chicago Medicine. As Associate Chief Medical Officer for the Clinical Learning Environment, she bridges education and clinical leadership to engage trainees and staff into the institutional quality, safety, and value mission. She is an elected member of the National Academy of Medicine whose work improving care and learning in teaching hospitals has been funded by NIH, AHRQ and the Macy Foundation, and has been cited over 10,000 times.
Dr. Chase Corvin is a general surgery resident at the University of Chicago Medicine. In addition to his medical training, Dr. Corvin has degrees in economics and business administration. He is currently completing two years of dedicated research and collaborating separately with the University of Chicago Booth School of Business and the Federal Aviation Administration's Air Traffic Organization to study quality improvement and efficiency within high reliability organizations. He also studies methods for improving interprofessional teaming within healthcare.
Sections from this episode include
Developing the "MD/APP In Room" button to improve patient experience and strengthen team communication
How medical students can be better utilized and integrated into healthcare teams
The importance of health systems science and using it to identify and remedy inefficiencies within healthcare teams
Sponsor
Special thanks to Dr. Ned Palmer for explaining the importance of budgeting and how to get started early to make your life easier down the road. Learn about how Panacea can make your financial life easier at panaceafinancial.com/itb
Leadership and Application of Systems Thinking
With Dr. Heidi Gullett and Andrea Szabo from Case Western Reserve University
Todays Guests
Heidi Gullett, MD, MPH, Associate Professor of Family Medicine, Inaugural Appointee of the Charles Kent Smith, MD and Patricia Hughes Moore, MD Professorship in Medical Student Education in Family Medicine. Dr. Gullett is dually board-certified in Preventive Medicine and Family Medicine and maintains a robust clinical practice at Neighborhood Family Practice on Cleveland's west side.
Dr. Gullett is involved in medical education, teaches medical students and Family and Preventive Medicine residents is a leader of the Block 1 first-year curriculum and is the Associate Program Director for the Public Health/ General Preventive Medicine residency.
Andrea Szabo is currently a third-year medical student at Case Western Reserve University. She majored in biomedical engineering at Boston University but was excited to return back home to Northeast Ohio for medical school. She had the opportunity to work closely with her mentor, Dr. Heidi Gullett for the first 6 months of the COVID-19 pandemic to design a contact tracing and cluster investigation program at the Cuyahoga County Board of Health. Together, they have worked to share their experience with others in the state and at other medical schools throughout the nation to help fight the pandemic.
Sections from this episode include
What is a 'system' and what systems were utilized in your project
How important understanding thinking in systems has proven during the Covid-19 pandemic
The important role that students played in shaping the contact tracing program
Sponsor
Special thanks to Dr. Ned Palmer for explaining the expenses associated with transitioning to residency. Learn how Panacea can make your financial life easier at panaceafinancial.com/itb
Paying for Healthcare
With Dr. Ned Palmer and MS3 Richard Lu
Todays Guests
Ned Palmer, MD, MPH, Instructor of Pediatrics, Part Time, Faculty at the Center for Bioethics, Harvard Medical School, Global Health Faculty at Boston Children's Hospital. Dr. Palmer is doubly board-certified in Internal Medicine and Pediatrics, and received his Master's in Public Health with a focus on Global Health and Humanitarian Response from the Harvard T.H. Chan School for Public Health. He continues to practice clinically as a hospitalist at Boston Children's Hospital and Brigham and Women's Hospital. He is also a co-founder and the Chief Strategy Officer at Panacea Financial, and a friend of InsideTheBoards!
Dr. Palmer is involved in medical education, teaching ethics to first and fourth year medical students, and also financial literacy and the business of medicine to all years.
Richard Lu, MBA is a 3rd year medical student at Harvard Medical School. He graduated from Princeton with a degree in Chemistry and Health Policy, before spending two years at Oxford as a Rhodes Scholar studying Global Health and pursuing his MBA. In between, he worked with McKinsey & Co.'s Health Systems Sector on payment innovation initiatives. He is a founding member of Off Their Plate, an organization created during the COVID-19 pandemic that empowers restaurants to feed healthcare workers and local communities in crisis.
Sections from this episode include
A brief history of the current health insurance model
Breaking down how insurance works
How money moves within the healthcare system
Sponsor
Special thanks to Dr. Ned Palmer for helping breakdown how doctors get paid and how finances work in the healthcare system. Learn how Panacea can make your financial life easier at panaceafinancial.com/itb
Continue Learning
The AMA also has an education module offered via the AMA Ed Hub™ that helps medical students understand why the domain of health systems science is an essential component of their training and central to their long-term success as physicians. It also describes how health systems science complements the basic and clinical sciences and explains how integrating it into curricula can further medicine's goal of improving public health.
Their specialized suite of financial products give medical students, residents, and practicing physicians greater freedom to forge their futures. By reducing financial barriers and burdens, we ensure that all doctors have increased capacity to serve their patients and the population at large.
Panacea Financial, a Division of Sonabank. Member FDIC.
Learn More
Elsevier is a long time supporter of ITB. Check out our other work with them including the Crush Step 1 Podcast and the Step 2 Secrets Podcast.
Visit the Student Hub